Welcome to I Dream of Jeannie Online the oldest and most visited 'Jeannie' website on the internet. Opened a decade ago I Dream of Jeannie Online began providing the internet with the largest and highest quality material on I Dream of Jeannie. Before long news papers, magazines, television documentaries and other websites began requesting use of these materials. Demand became high, time became short and this site closed. Now on the 40th year since I Dream of Jeannie premiered, it's back.

I'm reopening my vault of photos, video clips, rare art and so much more! Now all of these materials are being made available to you the fans, again! So take a look around. I hope you enjoy the new design which should prove to provide a more entertaining site, as well as much easier navigation with no pop-up advertisements!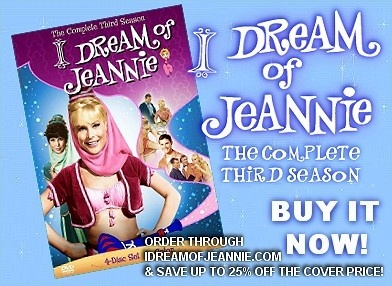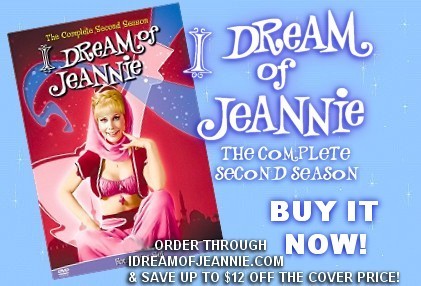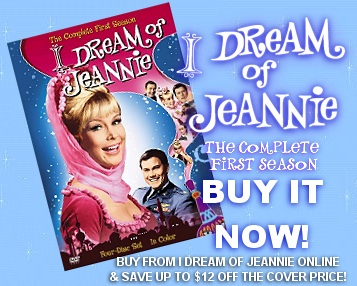 Where are they now?
Saturday, March 25, 2006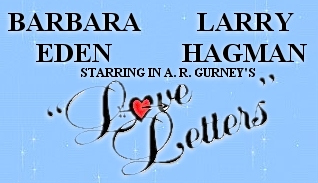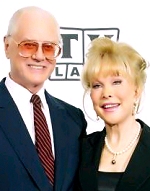 Staten Island, NY - The College of Staten Island Center for the Arts presents Love Letters on Saturday, March 25 at 8pm. Tickets are $75, $70, and $65 and may be purchased online at www.cfashows.com, by telephone at (718) 982-ARTS, or at the Box Office which is open Monday - Friday from 9am - 4pm and Saturday from 12 - 3pm.
Barbara Eden and Larry Hagman together again!
A.R. Gurney's "Love Letters" is a funny and evocative portrait of two friends whose journey through life is revealed through letters spanning adolescence, middle age, and maturity.
Tracing the lifelong correspondence of the serious, dutiful lawyer Andrew Makepeace Ladd III (Larry Hagman) and the lively, unstable artist Melissa Gardner, (Barbara Eden) the story of their bittersweet relationship gradually unfolds from what is written and what is left unsaid in their letters. The pair are working together for the first time since Eden guest-starred on Dallas in 1991 as Lee Anne de la Vega.
Catch this smash hit at the Center for the Arts that has been on and off Broadway. This dynamic show can't be missed! Join us in a champagne meet and greet after the show for an additional $50.00.
Love Letters appears in the Concert Hall at the College of Staten Island Center for the Arts on Saturday, March 25, 2006 at 8PM. For tickets or more information, contact the CSI Center for the Arts by calling 718-982-ARTS or on the web at www.CFAshows.com. For information: contact Michele Maglio, 718-982-2690 or maglio@mail.csi.cuny.edu.

The man behind 'I Dream of Jeannie' releases his own personal story in "The Other Side of Me."
I Dream of Jeannie . Com had the personal pleasure of previewing this book and highly recommends it to anyone!
| | |
| --- | --- |
| | In THE OTHER SIDE OF ME, Sheldon pulls no punches. He talks candidly about growing up in Depression-era Chicago, his family's poverty, and the onset of mood swings, later diagnosed as manic depression, that would haunt him throughout his life. He recalls how he boldly maneuvered his way into show business as a self-proclaimed songwriter…how, as a first-time nominee, he accepted the Oscar® for Best Original Screenplay for The Bachelor and the Bobby-Soxer without having prepared a speech…how he directed Cary Grant and comforted Judy Garland in Hollywood…how he worked with TV icons Barbara Eden, Patty Duke, and Larry Hagman. And, in frank and moving chapters, Sheldon reveals, for the first time, his private self: his profound personal losses and his search for happiness. |
Fans of "I Dream of Jeannie" will also find portions of this book to be a proverbial backstage pass to the show. Read about the first day of filming, working with Larry Hagman and how NBC's president ultimatly killed the television series. This book is a must have for any fan of Sheldon, 'Jeannie' fan or not.

Be one of the first to own the I Dream of Jeannie Bobble Head! Click above to order now! Also make sure you check out wickedcoostuff.com for more awesome products based on your favorite TV shows!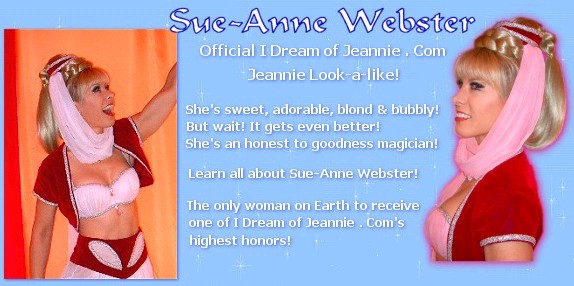 Be sure to watch I Dream of Jeannie every week day on TVLAND!