When I first spoke with Sue Anne I was more than thrilled by her warm and charming personality. Though we have never met in person she has been gracious enough to mail me VHS and DVD's of her magic act as Jeannie.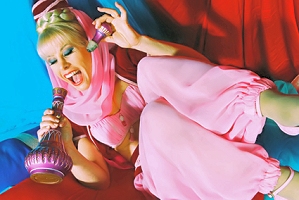 Not only can she perform magic, and capture the audience, she captures Jeannie's personality and character as well. I have no doubt in my mind that Sue Anne could very well be the next Jeannie, she's really that good. Even through simple emails it became clear, she not only looks like Jeannie, she too has a heart of gold.
Coming soon you will be able to watch Sue Anne perform magic and view even more photos of her as America's Favorite Jeannie.
Below are two still captures from Sue Anne's first DVD featuring her portrayal of Jeannie. At the time of production Sue Annes costume had yet to be remade to be identical to Barbara Eden's. The photo to the left is Sue Anne's costume now.